My Blog
Posts for tag: nutrition
By Brenna Hamrick-Stotts, DDS, Inc.
March 31, 2019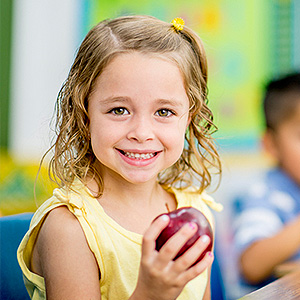 Besides daily hygiene and regular dental visits, the best thing you can do for your kids' dental health is to see that they're eating a nutritious diet. And not just at mealtime—healthy snacking also promotes healthy teeth and gums.
Healthy snack foods are quite similar to their counterparts at mealtime: fresh fruits and vegetables, whole grains and low-fat dairy. At the same time, you should avoid providing processed snacks high in sugar, salt, unhealthy fats and calories.
Managing snack choices at home is usually a simple matter of discipline and follow-through. When they're at school, however, it's a bit trickier as they may encounter snacks sold on school grounds or offered by fellow students that don't meet your definition of a healthy food. Public schools follow nutrition guidelines from the U.S. Department of Agriculture (USDA) on snacks sold on school grounds, but many dentists don't believe the standard goes far enough to protect dental health.
So, what can you do to combat these less healthy snack choices your kids may encounter at school? For one thing, you can work with your child's school officials to exceed the USDA guidelines or turn off snack vending machines right before lunch to lessen kids' temptation to skip lunch.
You can also interact with your children to better manage their schooltime snacking. But rather than issue blanket commands about what they should snack on at school, help them instead understand the difference between nutritional foods and less nutritional ones, and why it's important to choose healthy snacks for their life and health.
Finally, don't send them to school empty-handed—pack along nutritious snacks so that they won't seek out vending machines or their classmates to satisfy the munchies. You can supercharge your efforts with a little creativity (like a dash of cinnamon in a bag of unbuttered popcorn) that make your snacks fun and more enticing than other school ground options.
It's not always easy to keep your kids from unhealthy snack choices. But with a little commitment, interaction and ingenuity, you can help steer them toward snacks that are tooth-friendly.
If you would like more information on boosting your child's dental health, please contact us or schedule an appointment for a consultation. You can also learn more about this topic by reading the Dear Doctor magazine article "Snacking at School: How to Protect Your Child's Teeth and Promote Good Nutrition."
By Brenna Hamrick-Stotts, DDS, Inc.
July 14, 2018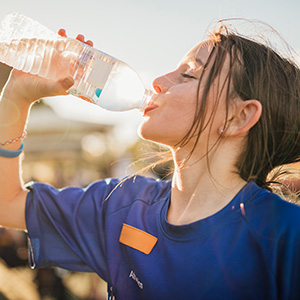 It's easy to work up a thirst in the summer. You might be shooting hoops in the park, riding on a trail or playing volleyball on the beach. No matter what your favorite summertime activity is, outdoor fun can leave you dry—and then it's time to reach for a cold one. But when your body craves hydration, what's the best thing to drink?
The answer's simple: water!
Sure, we've all seen those ads for so-called "energy" and "sports" drinks. But do you know what's really in them? Sports drinks (all of those different "…ades") are mostly water with some sugars, salts and acids. "Energy" drinks (often promoted as "dietary supplements" to avoid labeling requirements) also contain plenty of acids and sugars—and sometimes extremely high levels of caffeine!
Studies have shown the acid in both sports and energy drinks has the potential to erode the hard enamel coating of your teeth, making them more susceptible to decay and damage. And the sugar they contain feeds the harmful oral bacteria that cause tooth decay. So you could say that the ingredients in these beverages are a one-two punch aimed right at your smile.
It's a similar story for sodas and other soft drinks, which often have high levels of sugar. In fact, some popular iced teas have 23 grams (almost 6 teaspoons) of sugar per 8-ounce serving—and a single 24-ounce can holds 3 servings! Many diet sodas (and some fruit juices) are acidic, and may damage your tooth enamel.
Water, on the other hand, has no acid and no sugar. It has no calories and no caffeine. Simple and refreshing, water gives your body the hydration it craves, with no unnecessary ingredients that can harm it. In fact, if you fill a reusable bottle from your own tap, you may not only benefit from cavity-fighting fluoride that's added to most municipal tap water…you'll also be helping the environment by cutting down on unnecessary packaging.
It's best to drink water all of the time—but if you don't, here are a few tips: If you want to enjoy the occasional soda or soft drink, try to limit it to around mealtimes so your mouth isn't constantly bathed in sugar and acid. Swish some water around your mouth afterward to help neutralize the acidity of the drinks. And wait at least an hour before brushing your teeth; otherwise you might remove tooth enamel that has been softened by acids.
What you drink can have a big effect on your oral health—and your overall health. So when thirst strikes, reach for a cold glass of water. It can help keep you healthy this summer…and all year long.
If you would like more information about nutrition and oral health, please contact us or schedule an appointment. You can learn more by reading the Dear Doctor magazine articles "Think Before You Drink" and "Nutrition & Oral Health."
By Brenna Hamrick-Stotts, DDS, Inc.
July 21, 2016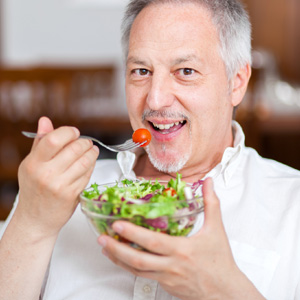 One of the most popular subjects in books, magazines and social media is food — the things we should or should not eat (or at least not too much). While losing weight is a popular focus, it's only one part of the whole — a balanced diet that supplies the nutrients we need to be healthy.
What you eat can also make a difference in your oral health. Here are 4 changes you should make to your dietary habits to cut down on the risk of dental disease.
Adopt a nutritionally sound diet plan. When we say diet, we're not talking about the latest weight-loss sensation — we mean a planned way of eating for life. For most people, that's a balanced diet of fresh fruits and vegetables, protein and dairy. Your teeth and gums have the best chance of remaining strong and healthy with a nutrient-rich diet.
Manage your sugar intake. Sugar and similar carbohydrates are a rich food source for bacteria that cause dental disease. It's important then that you keep your sugar consumption within limits: don't eat more than six teaspoons of processed sugar a day (or three for a child); avoid sugary snacks between meals; and try to satisfy your sweet tooth with the natural sugars found in fresh fruits and vegetables.
Cut back on acidic beverages. Sodas, juices, sports and energy drinks are all the rage. They're also high in acid, which at chronic levels can soften and erode tooth enamel. So, try to drink them only at meal times and avoid sipping on them over long periods. And, if you're hydrating yourself after moderate work or exercise, try nature's perfect hydrator — water.
Avoid eating before bedtime. A good portion of the acid in our mouths after we eat can be neutralized by saliva. As we sleep, though, our saliva flow slows down and doesn't have the same buffering power as it does during the day. So, try not to eat as least an hour before you turn in for the night, especially foods with added sugar.
If you would like more information on nutrition and oral health, please contact us or schedule an appointment for a consultation. You can also learn more about this topic by reading the Dear Doctor magazine article "Nutrition & Oral Health."